Finally, the moment has come for the whole WordPress community to gather together for a much-anticipated, in-person WordPress conference in Kolkata. That's right! After a couple of difficult years of the global pandemic, WordCamp Kolkata 2022 has arrived at your doors again and will take place on 18th December. We are excited to announce that WPDeveloper is a proud Platinum Sponsor of this prestigious event! 🥳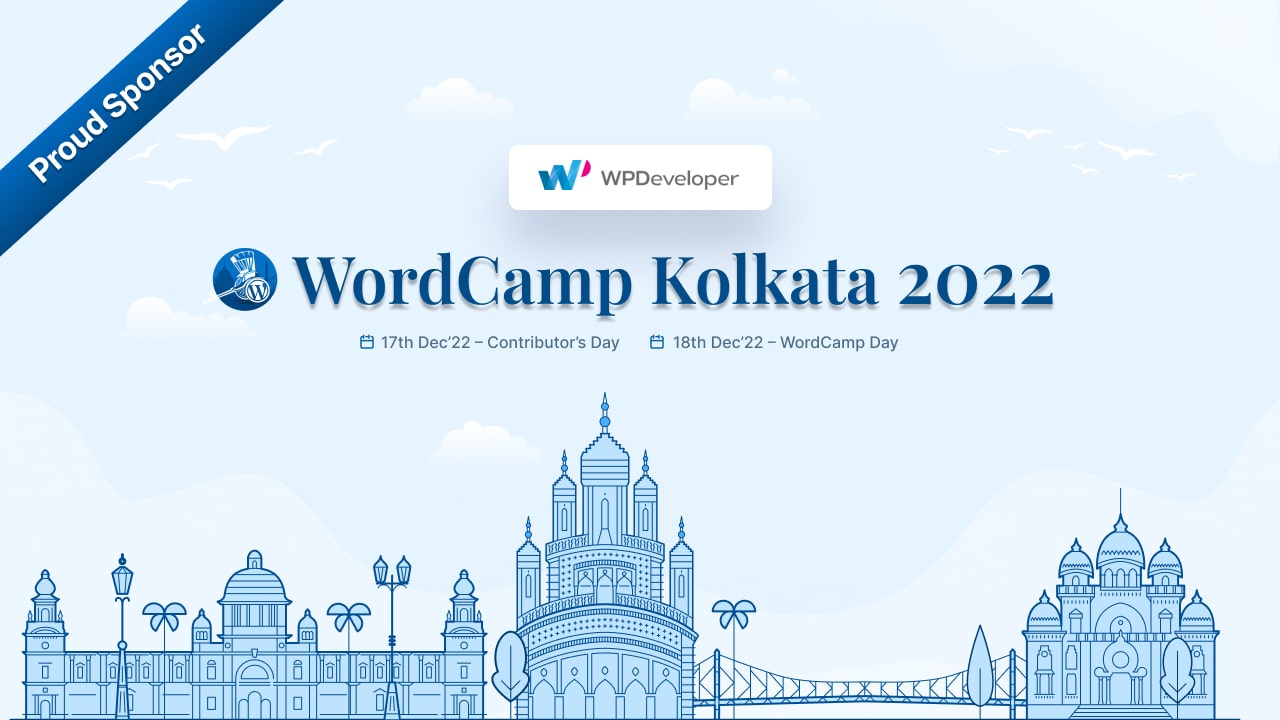 At this grand event, you will get the exclusive opportunity to learn everything there is to know about WordPress, network with everyone joining, and also give back to the platform on Contributor Day on 17th December. And, of course, enjoy the beautiful ambiance of Salt Lake City, Kolkata.
🚀The Much-Anticipated WordCamp Kolkata 2022 Is Almost Here!
The goal of organizing such WordPress conferences is to foster connections among users from across the world, in order to grow and improve the platform and the community. It all comes down to cooperation and communication, with the WordPress community exchanging creative ideas, skills, and expertise. WordCamp Kolkata 2022 is going to be no different and it is going to be an amazing experience for anyone attending. 
As an attendee, you can learn tons from the community – the Speakers, Sponsors, and Organizers – and how they have helped make WordPress the best CMS platform. You can also meet countless, renowned organizations from the industry and grow your network. 
🗓️ Where Will WordCamp Kolkata Take Place: Location & Time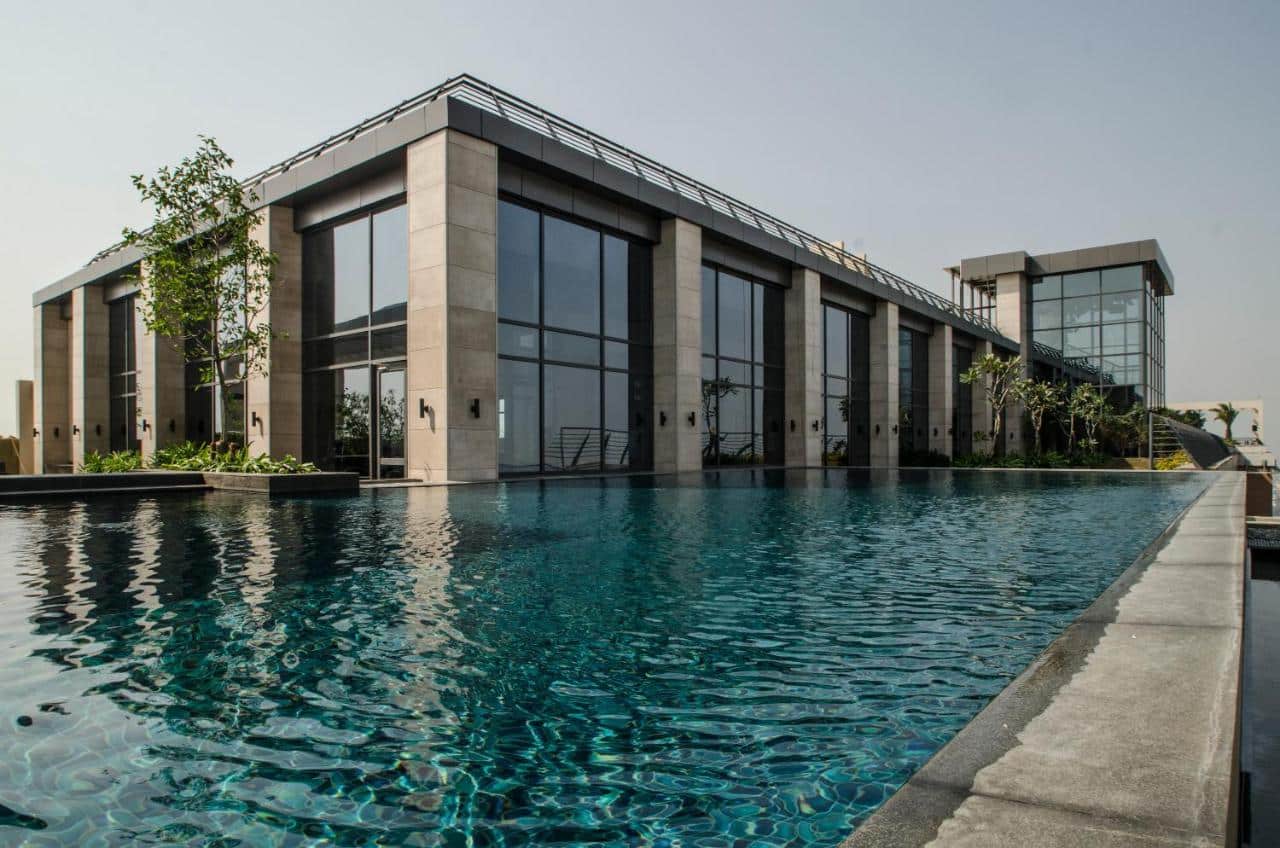 WordCamp Kolkata 2022 will be an entertaining, knowledge-sharing, and instructive one-day event held at the grand and spacious AltAir Boutique Hotel's Phoenix Hall 1 & 2 in Salt Lake City, right in the heart of the City of Joy, Kolkata.
But if you're interested in contributing to the improvement of WordPress, join in for Contributor Day that will take place the day before – on 17th December –  at Rabindra Tirtha, DG-17, Biswa Bangla Sarani. More details on the Contributor day will be provided later in this blog, so stay tuned.
🎯 2nd Chapter Of WordCamp Kolkata By The WordPress Community In India
This is the second WordCamp chapter hosted by the Kolkata WordPress Community, contributing to the worldwide WordCamp series. The WordPress community in Kolkata offers a warm, engaging, easygoing, and memorable experience for all WordPress enthusiasts across the globe.
They received official recognition in 2018 and are known to host multiple WordPress meetups. The first chapter of #WCKolkata was held in 2019 and was an amazingly successful event.
🏆 WPDeveloper: Proud Platinum Sponsor Of WordCamp Kolkata 2022
In this grand event, we WPDeveloper will participate in many ways. One of them is that we are the proud platinum sponsor of WordPress Kolkata 2022. Sponsoring WordPress events and contributing to them is our passion and we are always excited to be involved in the community. Our team is super excited to engage with other WordPress enthusiasts, so if you are attending WordCamp Kolkata, drop by at our booth to say hello and try your fortune with us by playing a spinwheel. If luck is in your favor, you might get some exciting and exclusive WPDeveloper swag!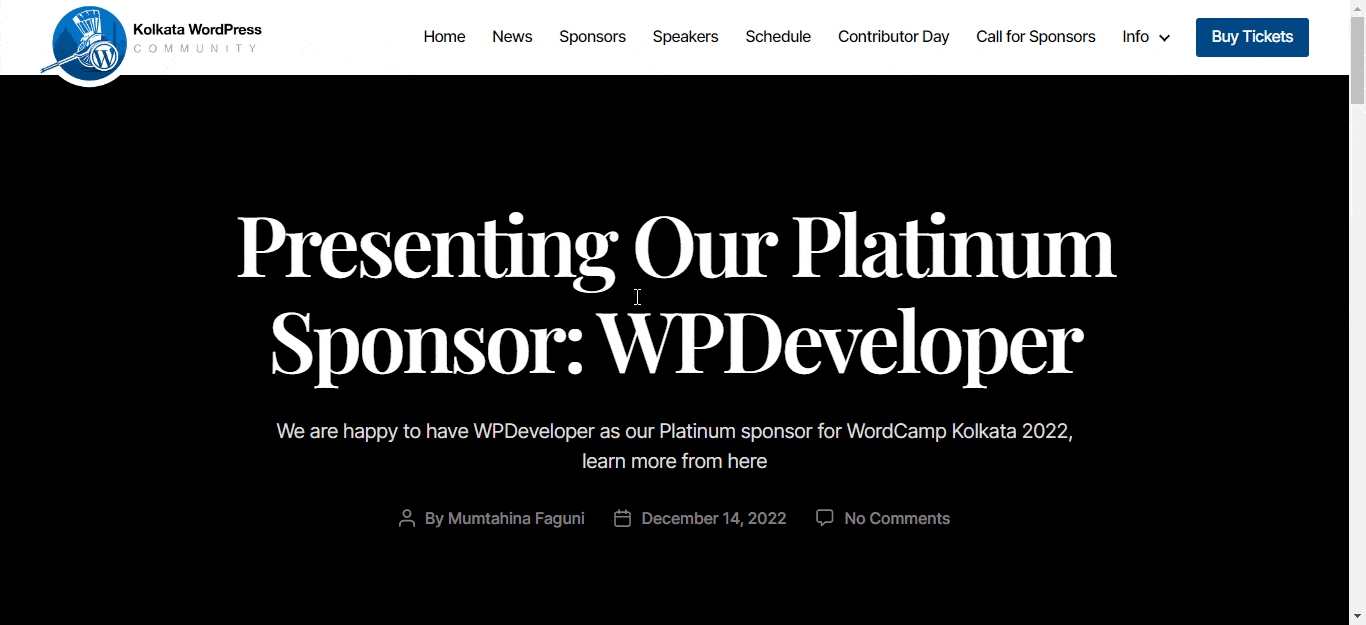 🔍 What Can You Anticipate From WordCamp Kolkata 2022?
After a lengthy hiatus due to the COVID-19 pandemic, the community is excited to bring you a lively event where everyone will have a blast while getting to know WordPress better and connecting with others who are passionate about the growth of this open source community.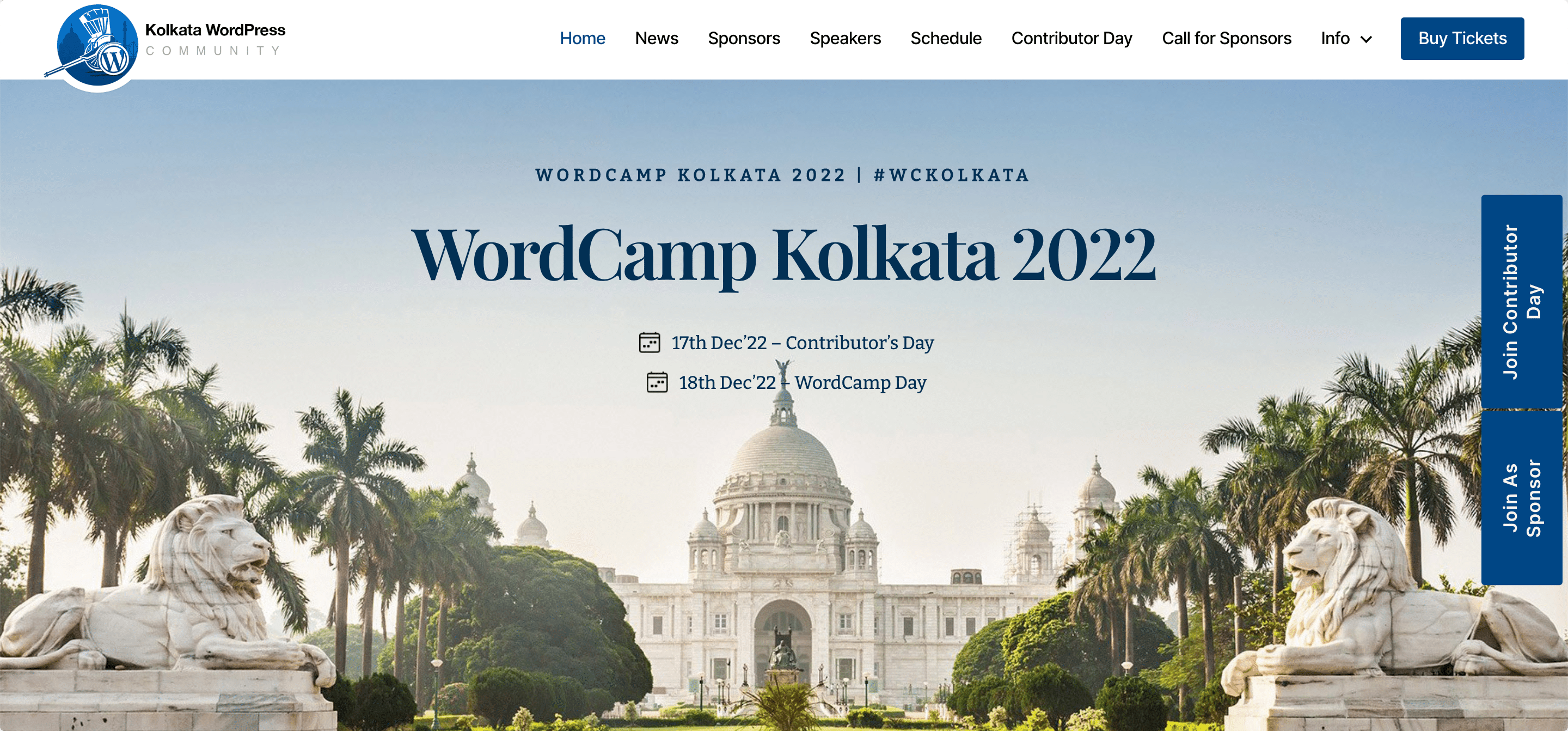 👉Hear Insightful Knowledge From The Speakers
WordCamps bring the great opportunity to be a speaker where you will get a chance to add extensive value to the WordPress community by simply talking about your experience in the industry. It is a great session of knowledge sharing on related topics of WordPress. At this event, you will find multiple speakers coming from versatile sectors of the industry and the globe.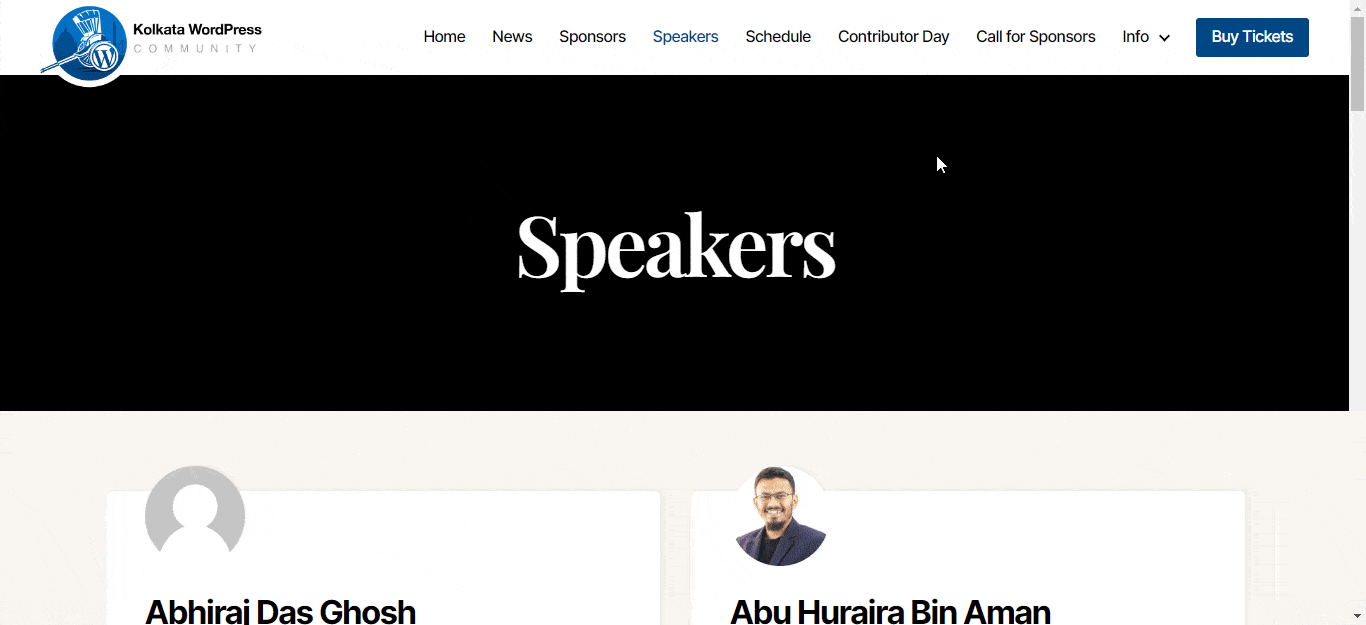 The founder of our very own WPDeveloper, M Asif Rahman, is one of the speakers of WordCamp Kolkata 2022. Along with him, Akshat Choudhary, Founder & CEO of BlogVault, MalCare & WP Remote, and Amit Singh, founder of WPoets.com will be present to share their valuable notes on WordPress, among many others. 
You can get a chance to hear from people from different sectors and career paths, like web developers, web designers, WordPress & JavaScript developers, community wranglers, sales engineers, and many more. All of them will share valuable and insightful discussions on different WordPress-related topics that can help you boost your career or knowledge in this industry with ease.
👉Meet Attendees Of The Event From Different Countries
WordCamps are great for community meetups and to engage with people from different countries travel from miles away to attend WordCamp events. This time is not different at all. WCKolkata is expecting to see hundreds of people enjoying the program, and you will get a chance to meet all the attendees at the event.
💡Join The Contributor Day At Kolkata & Dedicate Your Knowledge
17th of December, just the day before the event of WordCamp Kolkata 2022 is announced as Contributor Day. This time, it is going to be held at Rabindra Tirtha, a cultural center of Kolkata. This is the day when community people dedicatedly contribute to WordPress. You can say, it is a special day to give back to WordPress. 
As WordPress is an open-source project, anyone can contribute. And this huge project needs everyone from every sector. Doesn't matter if you are a developer, designer, writer, or marketer, there is a need for everyone. You can add value to WordPress regardless of the level of your skill and experience. 
Come And Meet Team WPDeveloper At WordCamp Kolkata
So, are you excited to attend the event? Only a few days left before WordCamp Kolkata begins! Several members from team WPDeveloper will be attending, so feel free to get in touch and meet with us at any time during the event.
For more news, updates and information about all things WordPress, subscribe to our blog or join our friendly Facebook community.


Source : wpdeveloper.com
---
---